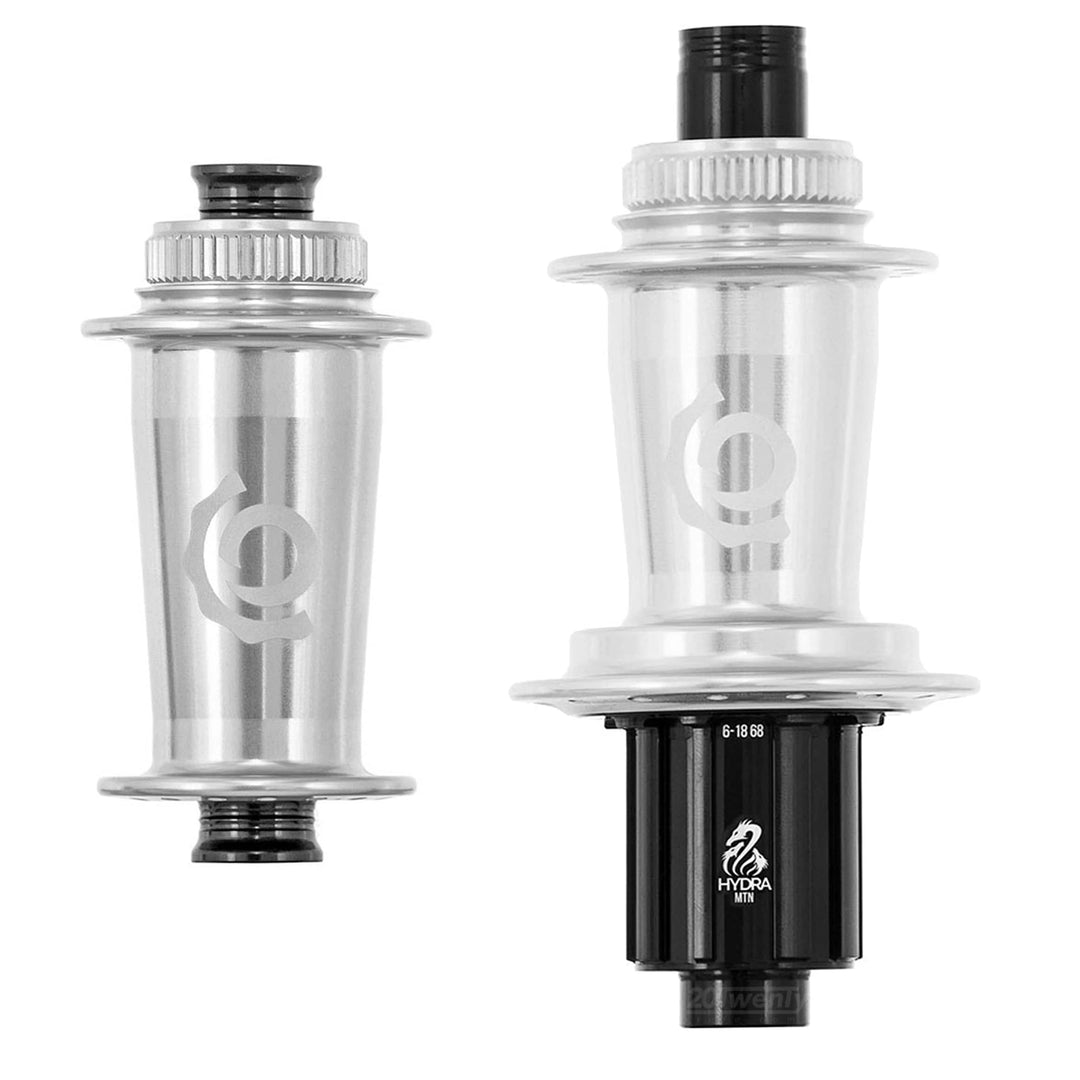 Hydra Classic Boost/SuperBoost Centrelock Hubs (Pair)
H2MCBAAEG2
Boost Front: 15 x 110 mm
Superboost Rear: 12 x 157 mm
Our pictures all show the rear hubs with a SRAM XD driver. One side of the hubs have "Industry Nine" lettering, the other has an "I9" logo.
Beautifully made lightweight hubs available in either 28 or 32 spoke configurations and 6 bolt or centre-lock disc mounting. Boost, 20mm Boost, Boost Torque and non Boost fronts, alongside Boost 148, non Boost, Boost DH, Superboost and 135 mm rear hubs are all available in 11 colours. We have the most popular fitments on our website, but we can supply different sizes should you  require them.
We can also supply single hubs.
Industry Nine's Hydra Classic hub is an update of their highly regarded Torch hub. The Hydra Classic takes the performance and reliability of the Torch and adds bigger bearings, better seals and a new axle design to reduce stress on the bearings. Every Hydra hub is made from start to finish in Industry Nine's Asheville, North Carolina factory.
Front Hub Weights: 165g (6 Bolt), 137g (Centre Lock).
Rear Hub Weight:286g (6 Bolt), 265g (Centre Lock)
Made start-to-finish at Industry Nine's machine shop in Asheville, North Carolina.
7075-T6 aluminium shells, axles and end caps.
Enduro brand oversized bearings with improved weatherproofing seals.
New axle design improves bearing life by reducing stresses.
Options to fit almost any frame or fork, in loads of colours available.
The rear hubs represent the next level in hub technology - an incredible 690 points of engagement result in 0.52 degree pick up. Six pawl engagement and a 115 tooth driver ensure in solid power transfer. Hydra is the culmination of two years research and development, with countless hours of testing. Shimano HG, SRAM XD and Shimano Microspline (12 speed) free hubs, 6 bolt or centre lock disc mounting and either 28 or 32 spoke drilling options in all hub spacing sizes.
690 points of engagement (0.52 degrees between engagement).
6 pawl, 6 phase.
115 tooth driver.
Contact 20Twenty to discuss your ideal wheel build!
UK Delivery
Orders Over £50 – Free (Royal Mail)
Orders Under £50 – £4.95 (Royal Mail)
FedEx £5.95
Our standard delivery time is 3–5 working days. We do our very best to deliver orders within this time, but occasionally there are delays outwith our control, caused by either suppliers or couriers.
UK Bike Delivery
We offer free UK delivery on all bikes unless bought through a Ride To Work Scheme.
We don't currently deliver complete bikes outside the UK.
Custom-built bikes can be delivered in kit form (for you to assemble) – we can include shipping to your country in your quote.
International Orders
Due to the number of delivery options, the best way to get a shipping price is to add what you would like to your basket and begin the checkout. You'll be able to see the shipping price before you checkout.
Unless IOSS applies (see below) our website will remove UK VAT. You are likely to be liable for tax and duties in your delivery country.
IOSS - EU Orders Under £130
Tax and duties will be calculated at the checkout. Once you have paid 20Twenty, you will have nothing to pay in your delivery country.