Transition call the Spire the "Nimble Bruiser". It's a lot of bike, but it still pedals well.
We won the "Teams" category of the 2022 Scottish Enduro Series, two of our three riders were on alloy Spires, we think that's a good demonstration of the capabilities of the Spire.

170 mm 29er with a 63-degree head angle (which can be set even slacker).
Collet main pivot axle and Enduro MAX bearings.
Accessory mount.
Lifetime warranty for original owner.
Flush mounted rubber frame protection.
Two chainstay sizes (S/M/L and XL/XXL).
Dual crown fork compatible.
2.6" tyre clearance.
Carbon frame features internal cable routing with guides.
Threaded BB - Boost axles - SRAM UDH (Universal Derailleur Hanger).
Transition Spire Geometry & Sizing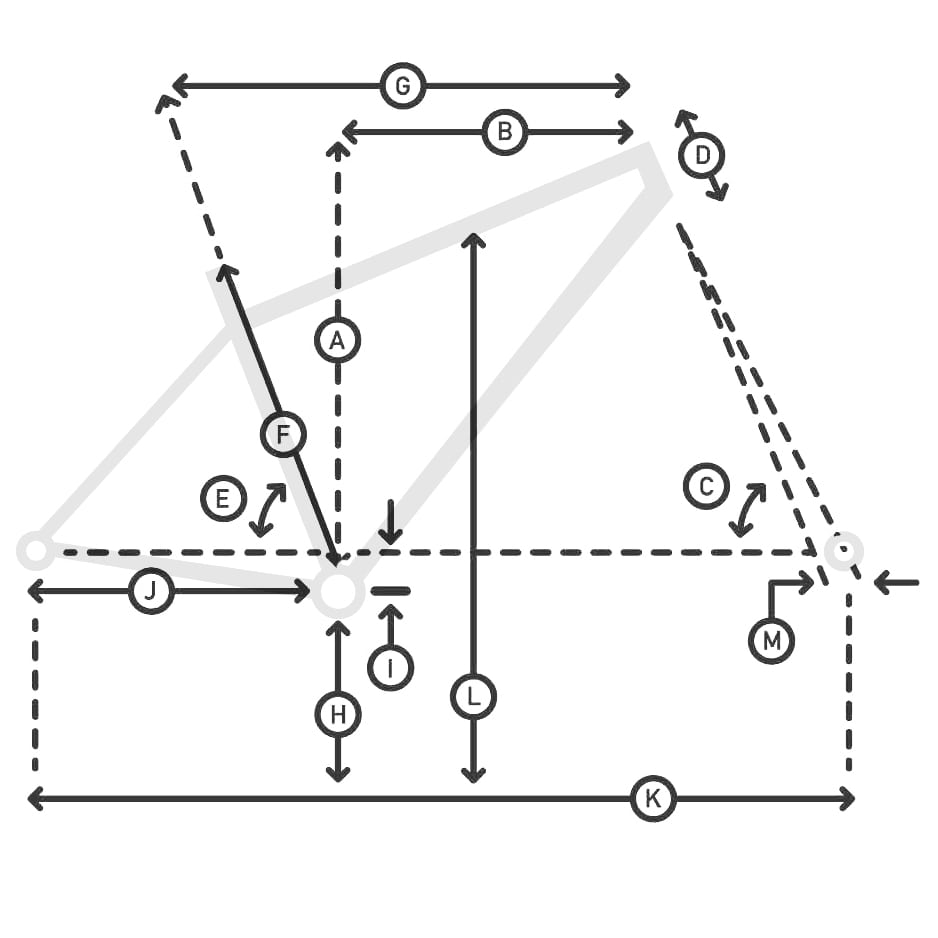 Transition Spire Geometry
Sizes in MM
S
High/Low
M
High/Low
L
High/Low
XL
High/Low
XXL
High/Low
A: Stack
619/624
619/624
628/633
637/642
646/651
B: Reach
430/425
460/455
485/480
510/505
535/530
C: Head Tube
Angle
63/62.5°
63/62.5°
63/62.5°
63/62.5°
63/62.5°
D: Head Tube
Length
100
100
110
120
130
E: Effective
Seat Tube Angle
79.6/79.1°
78.8/78.3°
78.1/77.6°
77.5/77°
77.2/76.7°
F: Seat Tube
Length
360
390
430
460
490
G: Effective
Top Tube
547/550
577/580
605/608
633/636
661/664
H: BB Height
350/343
350/343
350/343
350/343
350/343
I: BB Drop
25/32
25/32
25/32
25/32
25/32
J: Chainstay Length
446/448
446/448
446/448
446/448
446/448
K: Wheelbase
1227/1229
1257/1259
1287/1289
1322/1324
1352/1354
L: Standover
685/680
700/695
715/710
730/725
745/740
M: Fork Offset
44
44
44
44
44
Seatpost Diameter
31.6
31.6
31.6
31.6
31.6
Handlebar Width
800
800
800
800
800
Stem Length
40
40
40
40
40
Crank Length
165
165
165
165
165