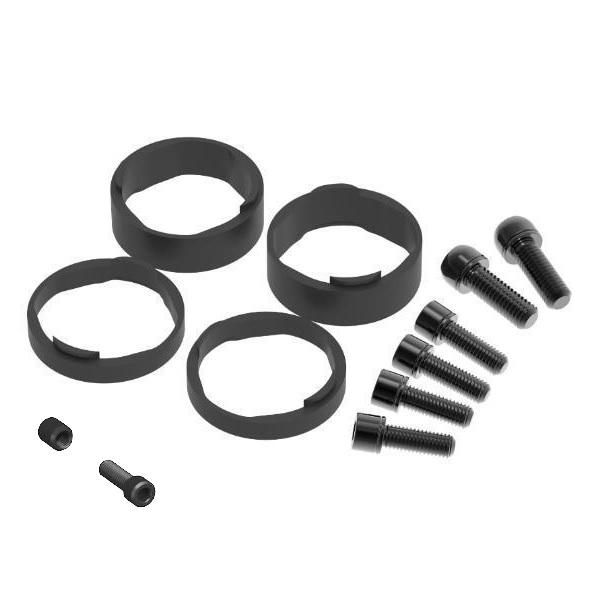 Stem Spacer And Bolt Kit
SP1C0058
This part is now discontinued by OneUp. Bolts are available here.
Replacement OneUp Stem spacers and bolt kit.

Kit includes:
4x m5x0.8x15mm socket head cap screws
2x m6x1x16mm socket head cap screws
2x 5 mm EDC stem headset spacers
2x 10 mm EDC stem headset spacers
1x preload lock nut
1x preload screw
UK Delivery
Orders Over £50 – Free (Royal Mail)
Orders Under £50 – £4.95 (Royal Mail)
FedEx £5.95
Our standard delivery time is 3–5 working days. We do our very best to deliver orders within this time, but occasionally there are delays outwith our control, caused by either suppliers or couriers.
UK Bike Delivery
We offer free UK delivery on all bikes unless bought through a Ride To Work Scheme.
We don't currently deliver complete bikes outside the UK.
Custom-built bikes can be delivered in kit form (for you to assemble) – we can include shipping to your country in your quote.
International Orders
Due to the number of delivery options, the best way to get a shipping price is to add what you would like to your basket and begin the checkout. You'll be able to see the shipping price before you checkout.
Unless IOSS applies (see below) our website will remove UK VAT. You are likely to be liable for tax and duties in your delivery country.
IOSS - EU Orders Under £130
Tax and duties will be calculated at the checkout. Once you have paid 20Twenty, you will have nothing to pay in your delivery country.